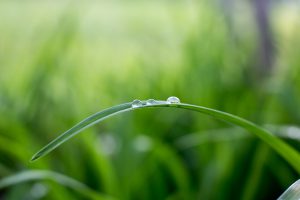 A beautiful lawn is the calling card for your home. It goes a long way in determining the value of your property, and gives you a place to enjoy nature after a long day. Many homeowners spend significant time watering by hand, taking great care to get more water on their plants than on their driveways, but there is a better way. Save yourself some water, time and money by having an irrigation system installed.
Today, irrigation systems are more advanced and efficient than ever. You won't have to worry about your system watering more concrete than garden beds or grass areas. Your irrigation team will ensure the system delivers the right amount of water to the right areas at the right time of day. This will ensure your yard gets balanced and consistent hydration all year round.
How can you tell your lawn is healthy?
It might seem like a no-brainer, but there are some signs to look for.
A healthy lawn will have an even color range, the blades of your grass will have a fairly even thickness, and will bounce back when walked on.
An over watered lawn remains soggy, you'll notice you have to mow more often due to the thick thatch growth, and the blades of grass will have a wilted, limp feel.
An under watered lawn remains drier, have slower growth (you don't have to mow as often), and the blades of grass will have a crisp feel to them.
An Irrigation Professional Can Help Give You What Your Lawn Needs
An irrigation system will not only contribute to the health of your lawn, it will also save you some hard-earned money as Irrigation systems help to prevent water waste. You'll be saving money as well as the environment for future generations!
Still have questions? Here is a list of Frequently Asked Questions about irrigation systems.
If you want to be the envy of every homeowner on your block with the lush, healthy lawn, make sure to have an irrigation professional install or repair your irrigation system! You'll get everything you want in your outdoor space, save some money while saving water!