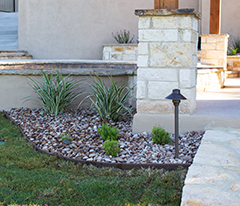 A beautifully landscaped yard is on just about every homeowner's wish list, and while tackling some projects yourself is rewarding, every home can benefit from the input of a landscaping professional.  
Working with a professional team gives you a distinct advantage.  You will be working with a group who has experience working with materials, plants and techniques you may not be familiar with.  A successful landscaping team will be able to blend their horticulture, soil biology, engineering and other skills to create the outdoor space of your dreams.
A landscape designer brings a lot to the table.  Your designer will take your ideas into account while he or she develops a plan that will highlight everything that is amazing about your home.  The team will bring ideas to the table, and then spin those ideas into creative solutions to bring the vision you have for your home to life.
Working with seasoned professionals ensures your landscape design will not only be buildable, it will also be sustainable.  A professional team will have a greater knowledge of construction capabilities, hiring one allows you to draw on that knowledge and save yourself from making construction errors that might cost you significantly more to fix.
You'll have confidence in your team's choices when it comes to every aspect of the design and implementation of the project.  Because you'll be working with a team, you have the advantage of a pro who specializes in a specific aspect of your build. Professional teams will have specialists installing your rock work, plants, irrigation, you name it!  
Any project is going to take a great amount of teamwork to complete, and your landscape pros have partners they will work with to get your project completed within your budget and time frame.  Teams rely on these relationships to bring you the highest quality product within your price range. When it comes to teamwork, your landscaping professionals will go the extra mile for your project.
If you have a landscape project welling up in the back of your mind, let the ECO family help you bring that project to life.  
We can take your project from idea to reality, and offer our services to help you maintain your landscape for years to come.