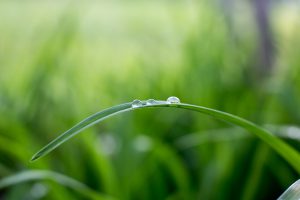 Water is the engine that drives your lush, beautiful lawn.  With Central Texas' slow infiltration and shallow bedrock, it can seem like a near impossible endeavor.  Keeping your lawn healthy and green might seem like a lot of work, but there are some easy ways you can give your yard all the water it needs without draining your bank account.
Timing is everything.

 Make sure you are watering your lawn in the early morning. Watering your lawn in the heat of the afternoon can cause up to 30% of your water to evaporate, and that's water that your lawn is not getting.

Cycle & Soak.

If you are noticing runoff with normal irrigation times, try a short duration watering cycle followed by a longer "soak" cycle. Watering in smaller time increments will allow our compacted clay soils to absorb more water.  Don't forget, if you are using a timer system, make sure it is in tip top condition to avoid run-off, and consider adding a rain or soil moisture sensor so you don't have to turn the system off if you get a lot of rain.

Save some rain for another day.

 Rain harvesting is an environmentally conscious option to consider.  Install a rain barrel to harvest rainwater for watering your landscape.  Collected water is free of many salts and chemicals present in most groundwater, so it is beneficial for your plants.  

Don't ignore your irrigation system.

 Hire a professional to maintain your irrigation system so it functions optimally throughout the year.  Leaks or other problems in the system can cost you money you don't even know you're spending. A leak, even 1/32" in diameter, can result in more than 6,000 gallons of wasted water per year.  Because these leaks can be so small, you may not notice them, but a professional will be able to pinpoint these issues and solve them before your money is washed down the drain. 

Never underestimate the power of mulching

.  Keep root zones cooler and hold moisture by using an appropriate mulch for your yard.  When choosing a mulch, be sure to consult a professional to advise which mulch is the right one for your application.

Give your soil an upgrade.

 Consider a topdressing for your lawn.  Topdressing is a prepared soil mix that can be applied to the surface of your lawn to improve water, air and nutrient movement into your soil.  Bear in mind that topdressing should be applied by a professional since the practice can be detrimental if done improperly.
Wasteful water usage is bad for the environment and your wallet.  Make sure you are taking steps to curb water waste while taking care of your lawn.  Contact Eco Irrigation and Landscaping if you need help saving money and water!